"A man would do nothing;

if he waited until he could do it so well

that no one would find fault 

with what he has done. " 

---

"It is cocaine," he said, "a seven-per-cent solution. Would you

"No, indeed," I answered brusquely. "My constitution has not got

over the Afghan campaign yet. I cannot afford to throw any extra

He smiled at my vehemence. "Perhaps you are right, Watson," he

said. "I suppose that its influence is physically a bad one. I find

it, however, so transcendently stimulating and clarifying to the

mind that its secondary action is a matter of small moment."

 

― 

Arthur Conan Doyle

, 

The Sign of Four



Introduction:
Tropane alkaloids are  plant derived organic compounds that contain a tropane ring in their chemical structure and they are among the oldest medicines known to man. T
ropane alkaloids are generally secondary metabolites of these plants e.g. cocaine 
has insecticidal 
properties at naturally
 occurring 
concentrations due to potentiation of insect 
octopaminergic neurotransmission (Nathanson
, 1993). 
Crude drugs and alkaloids prepared from these poisonous plants are used as an antispasmodic, sedative, anesthetic, mydriatic, etc. in therapies.
Tropane alkaloids have been found in different plant families, Brassicaceae (Cruciferae), Convolvulaceae, Erythroxylaceae, Euphorbiaceae, Olacaceae, Proteaceae, and Rhizophoraceae, but they are best known for their occurrence in the family Solanaceae (Griffin and Lin, 2000). The family Solanaceae comprises about 100 genera and 3000 species. Particularly the genera Datura, Brugmansia, Hyoscyamus, Atropa, Scopolia, Anisodus, Przewalskia, Atropanthe, Physochlaina, Mandragora, Anthotroche,Cyphantera, and Duboisia are known as being rich in tropane alkaloids (Griffin and Lin, 2000). 
Fig. Tropane alkaloid producing plants
Importance:
Tropane derivatives are among the economically most important pharmaceuticals (Rates 2001; Raskin 2002). Various pharmaceutical industries are manufacturing over 20 active pharmaceutical ingredients (APIs) containing the tropane moiety in their structures; they are applied as mydriatics, antiemetics, antispasmodics, anesthetics, and bronchodilators (Grynkiewicz and Gadzikowska, 2008). The first tropane derived API was homatropine, it was introduced by E. Merck Company as a new mydriatic in 1883.
Fig. Tropane alkaloids as active pharmaceutical ingredient, and their major applications
Long before the elucidation of their structures, 
the pharmacological properties of several 
tropane alkaloids were exploited e.g. atropine
, which typifies the action of tropane alkaloids, 
causes antagonism to muscarine receptors 
(parasympathetic inhibition) (Cordell, 
1981).
These receptors are responsible for slowing 
of the heart rate, vasodilation, dilation of the 
pupil, and stimulation of secretions. The heart 
rate altering properties of atropine have 
led to its use in the initial treatment of myocardial 
infraction. Tropane alkaloids have also 
been used to treat peptic ulcers, prevent motion 
sickness, and as components of preanesthetic 
drugs.
Cocaine is perhaps the 
best known of all the tropane alkaloids mainly 
because of its use as an illicit drug; it is a powerful 
central nervous system stimulant and adrenergic 
blocking agent, and its hydrochloride 
salt has been used as a local and surface anesthetic 
in face, eye, nose, and throat surgery 
(Gerald, 1981).
---
Cultivation:
Commercial cultivation of 
Duboisia 
spp. in Australia, 
Erythroxylum 
spp. in South America, and 
Hyoscyamus muticus 
in Egypt, constitutes the basis for supply of the global demand for tropane alkaloids. Also to a limited extent, 
Hyoscyamus niger 
is cultivated in USA, UK and India; 
Atropa belladonna 
is cultivated in UK, Germany, former USSR, USA and India; and 
Duboisia 
spp. are cultivated in India and Ecuador. While the 
Scopolia 
spp. are collected from wild sources in China and Romania.
Fig. Commercial cultivation1, Semi-commercial cultivation2, and wild sources3 of tropane alkaloid producing plants
Hairy root culture, a Biotechnological approach towards efficient alkaloid production, is also in progress for commercialization (along with some technical limitation), e.g. Agrobacterium rhizogenes induced hairy root culture of Hyoscyamus muticus.
Coca cultivation:
The sources of all cultivated coca are two closely related South American shrub species Erythroxylum coca and Erythroxylum novogranatense (Plowman, 

1984) adapted to environmentally distinct regions in 

Colombia, Bolivia, Peru (Ehleringer, 2000) and, 

most recently, Brazil (Duffy, 2008). Each species has 

an additional variety, E. coca var. ipadu and E. novogranatense var. truxillense, with the former 

known for its traditional use by lowland Amazonian 

groups (Plowman 1981) and the latter a drought resistant 

variety grown largely for commercial purposes 

in arid to semi-arid inter Andean valleys. 

Although E. coca var. ipadu has been cultivated in 

lowland Amazonia for many centuries, historically, 

its low alkaloid content has made it a poor choice for 

cocaine production; nevertheless, recent research on 

coca cultivated illegally in the Colombian Amazon 

indicates farmers to be increasingly cultivating high producing 

hybrids of E. coca var. ipadu (Johnson,

 2003). These hybrids would be well adapted and 

easily diffused to other parts of the Amazon (Duffy 

2008).
Duboisia are native to the Kingaroy district of Queensland, Australia. In 1940 collection of Duboisia from the wild commenced. Commercial production of scopolamine began in 1941, that of hyoscyamine /atropine in 1942 (Barnard 1952). Propagation of plants and plantations was limited in the early years due to the abundance of naturally occurring trees when land was cleared and burnt. For the harvest of Duboisia leaf for extraction, the trees are cut, the complete branches with the leaves are air dried and then the dry leaves removed (traditional method), or the fresh branches are chopped, the leaf separated from the wood chips and dried artificially (common industrial method). The stumps normally regrow and can be harvested again after about 12 months. The first large- scale plantations did not occur until the late 1950s, and then they were mainly from seedlings transplanted from natural germination in the wild.
Plant-related research initially focused on plant propagation, on identification of alkaloid-rich genotypes, and the elucidation of the reasons of alkaloid variation (Barnard and Finnemore 1945). These activities gained a new dimension when, in the area where the habitats of D. myoporoides and D. leichhardtii overlap, intermediate types were found that appeared to be natural interspecific hybrids. Artificial hybridization experiments started, and by 1945 the first hybrid plants were established in the field (Groszman 1949; Hills 1954). After the end of World War II, commercial alkaloid extraction and government-supported research continued until about 1954 when the export embargo on Duboisia leaf was lifted. Commercial extraction was no longer competitive in the international market; research was considerably reduced if not ceased. Exportation ofDuboisia leaf from collection of wild material and increasingly from cultivation commenced and continued with a steadily growing level, one of the main buyers being Boehringer Ingelheim.
In 1976 Boehringer Ingelheim has established its own Duboisia plantations within coastal forests from southern New South Wales to Northern Queensland. Since then the company has acquired several other properties, bringing the total acreage of our properties to around 990 hectares. The leaf of the Duboisia tree is harvested, dried and packaged in Australia, and then shipped to the Chemicals division of Boehringer Ingelheim in Germany, where extraction of active ingredients takes place. Today Boehringer Ingelheim, the manufacturer of Buscopan, is the world's leading producer of Duboisia, delivering 90% of the global requirement of the ingredient in 2010s.
---
Overview of biosynthesis pathway:
The main precursor of the bicyclic alkamine part is L-ornithine, converted to a diamine, putrescine, by a specific decarboxylase (OrnDC). Putrescine (which can be also obtained biogenetically from arginine) is mono-N-methylated by transferase PMT and subsequently transformed into N-methylaminobutanal by diamineoxidase DAO. Next, spontaneouscyclization-dehydration takes place, with formation of the common intermediate precursor, N-methyl- Δ1-pyrrolinium cation, from which nicotine and tropane alkaloids can be formed. This monocyclic precursor is further transformed into a corresponding 4-carbon side chain .-ketoacid intermediate by the action of two acetyl coenzyme A, (AcCoA) ester molecules. The oxobutanoic acid can cyclize to exo-carboxytropinone from which derivatives of tropine, pseudotropine or ecgonine are subsequently formed.
Biosynthesis of cocaine:

The additional carbon atoms required for the synthesis of cocaine are derived from acetyl-CoA, by addition of two acetyl-CoA units to the N-methyl-Δ1-pyrrolinium cation. The first addition is a Mannich-like reaction with the enolate anion from acetyl-CoA acting as a nucleophile towards the pyrrolinium cation. The second addition occurs through a Claisen condensation. This produces a racemic mixture of the 2-substituted pyrrolidine, with the retention of the thioester from the Claisen condensation. In formation of tropinone from racemic ethyl [2,3-13C2]4(N methyl- 2-pyrrolidinyl)-3-oxobutanoate there is no preference for either stereoisomer. In the biosynthesis of cocaine, however, only the (S)-enantiomer can cyclize to form the tropane ring system of cocaine. The stereoselectivity of this reaction was further investigated through study of prochiral methylene hydrogen discrimination. This is due to the extra chiral center at C-2. This process occurs through an oxidation, which regenerates the pyrrolinium cation and formation of an enolate anion, and an intramolecular Mannich reaction. The tropane ring system undergoes hydrolysis, SAM-dependent methylation, and reduction via NADPH for the formation of methylecgonine. The benzoyl moiety required for the formation of the cocaine diester is synthesized from phenylalanine via cinnamic acid. Benzoyl-CoA then combines the two units to form cocaine.
Biosynthesis in Datura:
Tropane alkaloid biosynthesis in Datura mainly takes place in the roots (Conklin, 1976). From the site of synthesis the compounds are translocated to upper parts of the plant. Changes in alkaloid content of leaves follow the fluctuation of roots, with a delay of approximately one month (Demeyer and Dejaegere, 1989). Degradation and transformation seems to take place continuously in stems and leaves during molecule translocation to green plant parts (van de Velde et al., 1988). Within cells, the alkaloids most likely occur in the form of crystals in the vacuoles (Verzár-Petri, 1973).
References:
1. Humphrey AJ, O'Hagan D: Tropane alkaloid biosynthesis. 
A century old problem unresolved. Nat Prod Rep, 
2001, 18, 494–502.
2. Oksman-Caldentey KM: Tropane and nicotine alkaloid 
biosynthesis – novel approach towards biotechnological 
production of plant derived pharmaceuticals. Curr Pharm 
Biotechnol, 2007, 8, 2003–2010.
3. Patterson S, O'Hagan D: Biosynthetic studies on tropane 
alkaloid hyoscyamine in Datura stramonium; hyoscyamine 
is stable to in vivo oxidation and is not derived 
from littorine via a vicinal interchange process. Phytochemistry, 
2002, 61, 323–329.
4. Robins R, Walton N: The biosynthesis of tropane alkaloids. 
In: The Alkaloids. Ed. Brossi A, Academic Press, 
New York, 1993, 44, 115–187.
---
Hairy root culture of tropane alkaloid producing plants:
Hairy roots result from the transfer and integration of the genes located on the Ri (root-inducing) plasmid of Agrobacterium rhizogenes into the plant genome and their expression therein (White and Nester, 1980). The transferred genes are involved in the synthesis of plant hormones,  expressing in the plant cell and giving rise to rooty tumors at the infection site. These types of roots are characterized by fast growth, frequent branching, plagiotropism, and the ability to synthesize the same compounds as the roots of the intact plant (David, 1984).
Fig.  Agrobacterium rhizogenes induced hairy root culture of Hyoscyamus muticus Courtesy Annika Wilhelmson, Valtion Teknillinen Tutkimuskeskus
The res
ponsible bacteria

Agrobacterium rhizogenes is a gram negative soil bacterium. It incites hairy root disease of many dicotyledonous plants (Brown, 1929; DeCleene and DeLey, 1981; Riker et al.,1930; Siegler, 1928). The ability of A. rhizogenes to incite hairy root disease is determined by a virulence plasmid (Chilton. et al.,1982; Moore et al.,1979; White and Nester, 1980) similar to Ti (tumor inducing) plasmid found in Agrobacterium tumefaciens which causes Crown gall tumors of plants. The virulence plasmid of A. rhizogenes is known as the Ri-plasmid to distinguish it from the tumor-inducing (Ti) plasmid.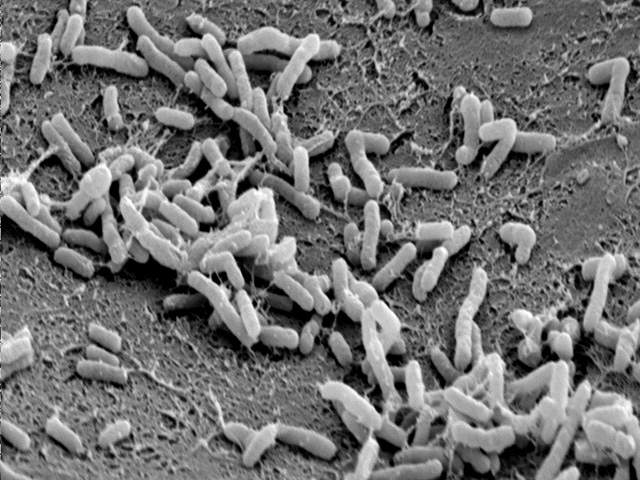 Fig. 
Agrobacterium 
courtesy 
Shirley Owens, Michigan State University
Mechanism

The Ri–plasmid contains a distinct segments of DNA which is transferred to plant genome during infection (Chilton et al.,1982; White et al.,1982; Willmitzer et al.,1982). The transfer of the DNA (T-DNA) to the plant genome is mediated by another segment on the plasmid known as the virulence (vir) region. Hairy root induction and morphology are controlled by the rol (A, B, C and D) genes from the A. rhizogenes Ri plasmid (White et al. 1985). The rol genes have also been found to affect secondary metabolite production (Sevón et al., 1997; Bonhomme et al., 2000; Bulgakov et al., 2004). The T-DNA confers on the plant cells the ability to grow in the absence of exogenous plant hormones. The T-DNA also confers on the transformed tissue the ability to produce modified amino acids (opines), which, in turn, are utilized only by the inciting bacteria as the carbon, nitrogen and energy source. The Agrobacterium species thus establish a unique ecological niche by genetically engineering the host plant—a highly sophisticated parasitism! Modern Agrobacterium mediated gene transfer to plants utilizes binary vectors in which the T-DNA and the vir region can reside on separate plasmids (Hellens et al., 2000).
Establishment of transformed root cultures
Amani M. Marzouk, Stanley G. Deans, Robert J. Nash and Alexander I. Gray
1. Transformed roots are obtained by infecting surface sterilized leaf and stem segments 
with Agrobacterium rhizogenes strain A4.
2. The strain A4 harbors the root 
inducing plasmid pRiA4 and engineered to contain in additional plasmid Bin 19, which 
harbors a kanamycin-resistant gene as a selectable marker. 
3. An overnight bacterial 
suspension in yeast mannitol broth (YMB) (Hooykaas 1977) supplemented with 
50
µ
M acetosyringone (as virulence inducer) is used for inoculation into freshly 
wounded explants. 
4. Infected samples are transferred to one tenth Murashige and Skoog 
(MS) agar solidified media (Murashige & Skoog 1962), kept in the dark for 48 h then 
incubated under 16 hour photoperiod at light intensity of approximately 1.8 wm-2 at 20 
±
 2 
°
C. 
5. The putative hairy roots, are transferred to hormone-free MS liquid media 
supplemented with 30 g l-1 sucrose. Ampicillin sodium salt 500 mg l-1 is added until 
cultures are free from the residual bacteria. 
6. The putative transgenic roots are 
maintained on the same liquid media (50 ml in 250 ml flasks) on gyratory shakers (90 
rpm), at 
20 
±
 2 
°
C
 in the dark or under illumination for 16 h day -1 or under continuous 
light. 
7. The roots are sub-cultured every two weeks. 
Reference:
1. Amani M. Marzouk, Stanley G. Deans, Robert J. Nash and Alexander I. Gray (2011). Transformed Root 
Cultures of Solanum dulcamara L.: A Model for Studying Production of Secondary Metabolites, Genetic 
Transformation, Prof. MarÃa Alvarez (Ed.), ISBN: 978-953-307-364-4
---
Chemistry:
Tropane is a bicyclic amine, characterized by a two-ringed structure with a pyrrolidine and a piperidine ring sharing a single nitrogen atom and two carbon atoms. Thus, the common structural element of the tropane alkaloids is the bicyclic azabicyclo-octane skeleton (Lounasmaa and Tamminen, 1993).
Fig. Tropane (all equivalent)
The wide range of tropane alkaloids occurring in the Solanaceae family arises from the esterification of acids, such as acetic acid, propanoic acid, isobutyric acid, isovaleric acid, 2-methylbutyric acid, tiglic acid, (+)-α-hydroxy-β-phenylpropionic acid, tropic acid, and atropic acid)
with various hydroxytropanes (α-tropanol, α− tropane-diol or α-tropane-triol).
Fig: Various types of carboxylic acids found in tropane alkaloids
The most important natural tropane alkaloids hyoscyamine and scopolamine (Figure 1) are esters of tropane-3α-ol (and the 6-7 epoxide of tropane-3α-ol) and tropic acid. The asymmetric α-carbon of tropic acid allows the formation of two stereoisomers.

Almost all of the tropane based pharmaceuticals are natural or semi-synthetic esters. There are also alkylated or arylated tropane-compounds known as phenyltropanes.
---
Chemical synthesis of tropane derivatives
Tropine
01. Reducing agents: 
Tropinone when reduced with appropriate reducing agents give tropine. The various reducing agents employed are:
 a. Sodium in ethanol or sodium amalgam can be used for reducing tropinone to pseudotropine.

 b. Catalytic hydrogenation (Pt), electrolytic reduction or Zn/HI can be used to reduce tropinone to tropine.

 c. Complex metal hydrides are the best reducing agents for the preparation of tropine from tropinone in the laboratory. Lithium aluminium hydride and sodium borohydride give a mixture of two, with pseudotropine predominating.
02. Enzymatic process:
The reduction of tropinone  and carbomethoxytropinone is mediated by NADPH-dependent reductase enzymes. All tropane alkaloid containing plant species so far studied possess two tropinone reductase activities, one (TRI) producing tropine and one (TRII) producing pseudotropine. 
T. Hashimoto, K. Nakajima, G. Ongena and Y. Yamada, Plant Physiol., 1992, 100, 836.
K. Nakajima, T. Hashimoto and Y. Yamada, Plant Physiol., 1993, 103, 1465.
Tropinone
01. Tropinone can be synthesized by classic one pot Robinson synthesis. In 1917 Robinson imagined that tropinone could be broken down into three units: succindialdehyde, methylamine, and acetone. He also thought that these units could be joined by means of double Mannich reaction to form tropinone in one step.
Robinson, R. J. Chem. Soc. 1917, 111, 762-768.
R. Robinson, The Structural Relations of Natural Products, Clarendon Press, Oxford, 1955, p. 59.
When the mixture was allowed to stand in water for thirty minutes, tropinone was produced in very small yield. The yield was extremely low due to low acidity of acetone. 
However yield can be improved to 40% by using calcium acetonedicarboxylate or ethyl acetonedicarboxylate instead of acetone. The calcium salt or ester so produced is converted into tropinone by warming with hydrochloric acid.
In acetonedicarboxylic acid, each methylene group is flanked by two carbonyl groups, thus there is a great amount of enol form. 
Schöpf et al. (1935) have obtained a yield of 70-85% by carrying out the reaction at a pH of 7. 
Nucleophilic addition of methylamine to succinaldehyde, followed by loss of water to create an imine
Intramolecular addition of the imine to the second aldehyde unit and first ring closure
Intermolecular Mannich reaction of the enolate of acetone dicarboxylate
New enolate formation and new imine formation with loss of water for
Second intramolecular mannich reaction and second ring closure
Loss of 2 carboxylic groups to tropinone
Elming et al. (1958) synthesized tropinone using methylamine hydrochloride, acetonedicarboxylic acid, and generating succindialdehyde in situ by the action of acid on 2,5-dimethoxytetrahydrofuran. 
The yield was 81%, but in this case physiological conditions were not necessary.
A similar to Robinson synthesis, synthesis of Pseudopelletierine can be helpful for comparison. In tropinone synthesis succindialdehyde is used, while glutaraldehyde is used in the synthesis of Pseudopelletierine.
02. Willstätter synthesis was the first synthesis of tropinone in 1901. It began with cycloheptanone and the final yield was only 0.75%.
R. Willstätter, Annalen., 1903, 317, 204.
03. Decarboxylation of 2-carboxytropinone or 2,4-dicarboxytropinone with concentrated HCl gives Tropinone. Bakers yeast can also be used for this purpose. 
04. Tropinone can also be prepared from 2, 6-cycloheptadienone at a low yield.
Ipratropium Bromide
01. For scopine, 6, 7-Dehydrotropinone can be used as a starting material. But to protect the epoxy group in scopine, the ketone group is reduced and esterified. (
source
)
Ecgonine
1. Ecgonine can be prepared from 2-carbomethoxytropinone, first by reducing it, then hydrolysis.   
2. Tropinone can be used as a starting material for ecgonine synthesis. 
R. Willstätter and W. Müller, Ber. Dtsch. Chem. Ges., 1898, 31, 2655
2-Carbomethoxytropinone
01. Cyclization of 1-methyl-2,5-dicarboethoxypyrrolidine gives 2-Carbomethoxytropinone.
R. Willstatter and M. Bommer, Ann., 422, 15 (1921)
R. Willstiitter and A. Pfannenstiehl, Ann., 422, 1 (1921)
02. 2-Carbomethoxytropinone can be obtained from modified Robinson synthesis. (yield 20%).
German Patent 345,759
03. 2-Carbomethoxytropinone can be produced from Tropinone and carbon dioxide in presence of sodium (or potassium) in benzene (or xylene). Practically dimethyl carbonate is used as a source of carbon dioxide. (yield 70-80%).
N. A. Preobrashenski, M. N. Schtschukina, and R. A. Lapina, Ber., 69,1615 (1936)
04. Willstatter's synthesis proceeds using dipotassium salt of monomethyl beta-ketoglutarate.
R. Willstatter, 0. Wolfes, and H. Miider, Ann., 434, 111 (1923)
06. Variation of Willstatter's synthesis using monomethyl beta-ketoglutarate also yields 2-carbomethoxytropinone in satisfactory quantity.
R. Willstiitter and A. Pfannenstiehl, Ann., 422, 1 (1921)
R. Kaushall, J. Indian Chem. SOL, 17,138 (1940)
Cocaine
01. Willstäter´s Preparation
Cocaine was first prepared in 1923 by Willstäter. This synthesis is very remarkable because, although at this time both the relative and the absolute stereochemistry of cocaine were unknown, they were able to prepare this alkaloid in optically active form.
WILLSTÄTTER, R.; WOLFES, O.; MÄDER, H. Annalen 1923, 434, 111
02. Preobrazhenskii´s Preparation
In 1958 a group of Soviet chemists made improvements to Willstäter's synthesis by the in situ generation of the unstable butandial by acidic hydrolysis of dimethoxytetrahydrofuran.
BAZILEVSKAYA, G.I.; BAINOVA, M.S.; GURA, D.V.; DYUMAEV, K.M.; PREOBRAZHENSKII, N.A. Isvest.Vysshikh.Ucheb.Zavedenii, Khim. i Khim.Tekhnol. 1958, 2, 75-81 (Chem.Abstr. 1959, 53, 423h).
BAINOVA, M.S.; BAZILEVSKAYA, G.I.; DYUMAEV, K.M.; PREOBRAZHENSKII, N.A. Zh.Obshch.Khim. 1960, 30, 1120-1123 (Chem.Abstr.1961, 55, 530f)
BAINOVA, M.S.; BAZILEVSKAYA, G.I.; PREOBRAZHENSKII, N.A. Zh.Obshch.Khim. 1960, 30, 3258-3261 (Chem.Abstr. 1961, 55, 21155d)
02. Tufariello synthesis using nitrone
TUFARIELLO, J.J.; TEGELER, J.J.; WONG, S.C.; ALI, S.A. Tetrahedron Lett. 1978, 30, 1733-1736
TUFARIELLO, J.J.; MULLEN, G.B.; TEGELER, J.J.; TRYBULSKI, E.J.; WONG, S.C.; ALI, S.A. J.Am.Chem.Soc. 1979, 101, 2435-2442
04. Carroll´s Preparation
LEWIN, A.H.; NASEREE, T.; CAROLL, F.I. J.Heterocycl.Chem. 1987, 24, 19-21
CARROLL, F.I.; COLEMAN, M.L.; LEWIN, A.H. J.Org.Chem. 1982, 47, 13-19
05. Rapoport´s Preparation
LIN, R.; CASTELLS, J.; RAPOPORT, H. J.Org.Chem. 1998, 63, 4069-4078
PETERSEN, J.S.; FELS, G.; RAPOPORT, H. J.Am.Chem.Soc. 1984, 106, 4539-4547
06. Cha´s Preparation
LEE, J.C.; LEE, K.; CHA, J.K. J.Org.Chem. 2000, 65, 4773-4775
03. Pearson synthesis
Cocaethylene
01. Cocaethylene can be prepared from cocaine and ethanol by an ester exchange reaction. 
---
List of tropane compounds:
---
List of plants producing tropane alkaloids:
---
Examples of tropane compounds used as Active Pharmaceutical Ingredients (APIs)
List of generics and non-generics manufactured by various pharmaceuticals companies
 
 Commercial Name
 Combination
 01
 Atropen
 Atropine
 02
 Adenocard
 Atropine
 03
 Atrovent Nasal Spray
 

Ipratropium Bromide 

 05
 Atrovent HFA
 

Ipratropium Bromide 

 06
 

Buscopan

 ButylScopolamine


 07
 

Buscolysin

 

ButylScopolamine

 08
 

Buscopan Plus

 

ButylScopolamine & acetaminophen

 09
 Cogentin
 Benztropine Mesylate Injection


 10
 Combivent
 

Ipratropium Bromide and Albuterol Sulfate

 11
 Duoneb
 

Ipratropium Bromide and Albuterol Sulfate

 12
 Enlon Plus
 

Edrophonium Chloride &

 Atropine Sulfate

 13
 Eumydrin
 Atropine Methonitrate
 14
 Hycodan
 

Hydrocodone Bitartrate and

 Homatropine Methylbromide




 15
 Iprex
 Ipratropium Bromide




 16
 Ipramid
 Ipratropium Bromide
 17
 Iprasol
 Salbutamol & Ipratropium Bromide
 18
 

Lomotil

 

Diphenoxylate &

 Atropine

 19
 Motofen
 

Difenoxin &

 Atropine

 20
 Norvent
 Tiotropium Bromide




 21
 Prosed DS

Composed of methenamine, salicylate, methylene blue,

 benzoic acid, atropine, and hyoscyamine

Brings soothing relief from the pain, burning, and spasm of:

Urinary tract infections
Urinary inflammatory diseases
Urinary diagnostic procedures

Provides analgesic, antispasmodic, and antiseptic actions, unlike single-action agents

 22
 Spiriva
 Tiotropium Bromide

 23
 Sulprex
 Salbutamol & Ipratropium Bromide
 24
 MARK I NAAK

MARK I Kit, is United States military nomenclature for the "Nerve Agent Antidote Kit". It is a dual-chamber auto-injector: Two anti-nerve agent drugs — atropine sulfate and pralidoxime chloride — each in injectable form, constitute the kit. The kits are only effective against the nerve gents tabun (GA), sarin (GB), soman (GD) and VX.


                                                                              List of tropane compounds and their commercial names
 
 Compound
 Commertial Name
 01
 Atropine
 

Lomotil

, 

Atropen, Adenocard, Motofen, Prosed DS
 02
 Atropine methonitrate
 Eumydrin
 03
 Atropine Sulphate
 Enlon Plus

 04
 

Benztropine Mesylate

 Cogentin
 05
 

ButylScopolamine

 Buscopan, Hyospasmol, Lotanal, Oportunin, Scop, Scopoderm T , Spasmofen

 00
 Cocaine Hydrochloride
Cocaine is used to temporarily numb the lining of the mouth, nose, and throat (mucous membranes) before certain medical procedures (e.g., biopsy, stitches, wound cleaning). It is an anesthetic that works quickly to numb the area about 1-2 minutes after application. Cocaine also causes blood vessels to narrow, an effect that can decrease bleeding and swelling from the procedure. 
 06
 

Homatropine Methylbromide

 Hycodan
 07
 

Hyoscyamine

 Prosed DS
 08
 Ipratropim Bromide
 Sulprex, Iprex, Atrovent, Combivent, Duoneb, Ipramid
 09
 Tiotropium Bromide
 Norvent, Spiriva

---
List of foods and beverages made from tropane alkaloid producing plants:
List of Beverages
 
 
 
 01
 Coca-Cola


 

A de-cocainized extract of coca leaf is one of the flavoring ingredients in 

Coca-Cola.


 02
 Coca tea

Coca tea, also known as mate de coca, is a type of herbal tea that is made using the dry, raw leaves of the coca plant soaked in hot water so that the phytonutrients are extracted from the leaf.




 03
 

Agwa de Bolivia

 

A herbal 

liqueur

 made with 

Bolivian

 

de-cocainized 

coca leaves

 and 37 other natural 

herbs

 and botanicals.




 04
 

Red Bull Cola

 

A 

liqueur

 made with 

de-cocainized 

coca leaves

 and other natural 

herbs

 and botanicals.




 05
Coca Colla 
 A

n 

energy drink

 produced in 

Bolivia

 with the use of 

coca

 extract as its base.

 06
 

Triple 3x Coca Tea

 

 A

n iced 

tisane

 made from natural 

coca leaves

, raw cane sugar, honey and lemon juice.

 07
 

Piscoca

 Liquid Extract from coca leaves in PISCO (distilled fresh grapes juice from Inca Valley in Peru).




 08
 

Coca Liquor

 Typical liquor of coca leaves can be found with alcohol grade 20%.
 
COCA LEAF, COCA TEA, COCA LEAVES, COCA DELISSE FROM PERU
List of foods & other products
 
 
 
 01
 Coca biscuit 

Courtesy 

CocaShop
 

Cookies are made with coca powder, flour, soya, 

yogurt

 and sugar. 





 02
 

Cocamelos

 Candies are made from coca leaves.




 03
 

Energetic Bar

Energetic bars are made with 

Coca Powder, 

Maca, 

Linseed, 

Kiwicha (amaranto), 

Sesame, 

Raisins , 

Oats, 

Chestnuts, 

Dried grapes, 

Honey Bee, 

Honey Fruit.




 04
 

Llipta / 

llicta / llupta

 A 

Supplement for use of coca leaves. 

Mass formed by a mixture of lime and/or 

vegetable

 ash normally of kiwicha or quinua cereals.




 05
 Noodles
 

 06
 

Coca soap

 Soaps are made with olive oil, palm oil, coconut oil, distilled water and coca leaf.






 07
Coca Cream 
 Cream of coca leaves.




---
Controversy
: 
Case 1: 
Coca in South America
Coca, the plant producing cocaine, has always been a symbol of Andean culture. 
Andean culture
 is a collective term used to refer to the 
indigenous
cultures
 of the Andes mountains especially those that came under the influence of the 
Inca empire
. 
Fig. Coca leaves contain 0.5% to 1.5% cocaine
Fig. A brick of one kilo cocaine
Natives practice coca leaf 
chewing to alleviate hunger, cold and fatigue and is
used both in traditional medicine and shamanic 
practices (Rospigliosi, 2004). 
It 
has also been a vital part of the religious cosmology of the Andean peoples of Peru, Bolivia, Ecuador, Colombia, northern Argentina, and Chile from the 
pre-Inca period
 through the present. 
Traditional use 
of the coca leaf appears to have no negative 
consequences (Duke, 1975; Morales, 1994).
Today coca is a controversial plant due to uncontrolled 
trafficking
 of 
cocaine worldwide. Like the early rejection of coffee or tea by non-native cultures, coca is still facing bans in most countries by the 
1961 
Single Convention on Narcotic Drugs
. 
The Convention determined that "The Parties shall so far as possible enforce the uprooting of all coca bushes which grow wild. They shall destroy the coca bushes if illegally cultivated" (Article 26) 
and that, "Coca leaf chewing must be abolished within twenty-five years from the coming into force of this Convention" (Article 49, 2.e)
.
The 'Columbus landing on Americas' decision is of course unethical because no one has the right to control the natural habitat of a species and no can abolish an intangible cultural heritage.
In 2006 
Bolivian President Evo Morales defended the 
ancient ritual of chewing coca leaves
 in a meeting before the UN's Drugs and Narcotics Commission.  
Fig. 
Evo Morales shows a coca leaf during his presentation before the UN courtesy Bolivian government
Cocaine was not always a problem compound. It was once a legal miracle drug, along with other narcotics, and the main commodity for major pharmaceutical companies to generate profit in 
early 20
th
 century. 1g dry coca leaf 
roughly
yields 5mg cocaine, so coca cultivation was increased in Andean region. Also coca cultivation was newly introduced in Sumatra, Java, Borneo, Taiwan,
Iwo Jima, Okinawa and
 Sri
Lanka at the same time. Th
e supply multiplied year after year exceeding the demand. Much of these companies still dominate the world as pharmaceutical or chemical giants. Current generations are now a victim of cocaine abuse, because those companies made greedy decisions of maximizing profit. The fact can be compared with the unregulated overconsumption of antibiotic drugs in 21
st
century that will soon give rise to antibiotic resistant strains, ultimately leading the human race vulnerable to incurable diseases.   
 

Meeting cocaine farmers - Alex James - BBC




 

How cocaine is made in the Amazon - Bruce Parry- BBC
P
ituri,  originally 
Duboisia hopwoodii,
is a plant containing nicotine,
 scopolamine and hyoscyamine;
 has a similar history like coca. Aborigines of central Australia chewed the leaves much like Andean people. 
The pituri plant had enormous economic value to the Aborigines. Pituri roads existed with extensive trade networks that extended from northern to southern desert areas, which permitted Aborigines to trade the plant. 
They were used as a token of friendship toward strangers, as a stimulant and social comforter to foster feelings of amity. 
By the 1950s, pituri (Duboisia hopwoodii) use had disappeared, pushed out by Lutheran usurpation of the plant harvest (Hart, 1983). This had the effect of bringing tribal members to mission settlements. Commercial tobacco was also introduced into Australia at the time of European contact and became popular among Aborigines, despite the availability of different species of native tobacco that grew wild and was chewed as a wad.
Today the chewing of tobacco plants (
Nicotiana 
spp.) is practiced across a broad inland area of central Australia by traditional Aboriginal groups. Collectively these plants are known by a variety of names, one common name being 'pituri'. 
Pituri is prepared by drying and powdering the leaves of the nicotine plant and mixing with ash from a variety of different specially selected species. It is rolled up into quids (balls) that are 6cm long and 1.5cm in diameter and then chewed. 
References:
Steven B. Karch  MD  FFFLM
03. 
Powderburns Cocaine, Contras the Drug War
            Celerino III Castillo, Dave Harmon
00. 
Cocaine (Drugs the Straight Facts)
00. 
Cocaine Nights-Counterpoint
00. 
Drug Education Library - Cocaine and Crack
00. 
Cooked From the Streets to the Stove, from Cocaine to Foie Gras
00. 
The Cocaine Chronicles
            Jervey Tervalon, Gary Phillips    
00. 
Cocaine - Global Histories
00. 
Andean Cocaine - The Making of a Global Drug
00. 
Cocaine Trafficking in Latin America (Global Security in a Changing World)